1. When you play on Internet Cafe/Cyber Cafe make sure your computer have proper antivirus and malware protections. Most accounts are stolen by keyloggers that is installed by users. This also goes for your home computer!.
2. Never lend/share your account with any one!.
3. Never download any linked tools/wares that is not posted by us!.
4. Never use same account info as you do on other servers.
5. Never give password to gm or other people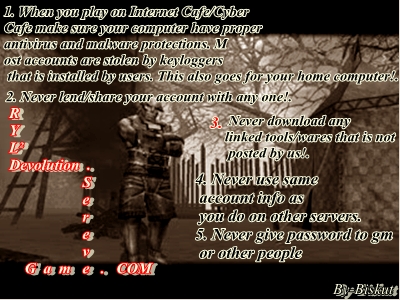 Last edited by RΞziztanceOnce on Thu Sep 02, 2010 9:53 pm; edited 3 times in total



Posts

: 94


Join date

: 2010-07-28


Age

: 104



NOOB ! this u copy from GoW..
Im pretty sure GoW does not own those set a rules.
Idiot...



Posts

: 48


Join date

: 2010-08-20


Age

: 36



the one is stupid here is ur gm not a GoW team,...u lamer !
Ok then jackass, go post on every single server forum and tell them the same thing you told us you fucking idiot.
EVERYONE has those rules.



Posts

: 48


Join date

: 2010-08-20


Age

: 36



why don't he create the one for his serve..and don't copy?why he don't do that?becoz he got no idea..stupid kids
why wth u asd01?u joking or?
about Rule>i think its same wth all..all server same rule..have server rule like can share ID?or other?Damn u noob..juz komplen many question..why not complain about the RYL website?all copy from CIB too or someone..but they?not complain like u..
ok now.why u use asd01 name??it's my name at other forum?u also noob 1?
i think u still child..dun know what rule/n dun know what Copy cat like u..
i'm not play this server game but i can respect all..not like u Cat..




Posts

: 18


Join date

: 2010-08-13



asd01 wrote:NOOB ! this u copy from GoW..
i juz remember that to player but now u will see the rules all same or not..
>http://avenger2.freeforums.org/server-in-game-rules-t921.html
>http://rylnightmare.com/Rules.php
>http://forum.ruinsofwar.com/viewforum.php?f=4
wanna more Use SEARCH button.
that same right?so go complain at other server more..



Posts

: 94


Join date

: 2010-07-28


Age

: 104





Similar topics
---
Permissions in this forum:
You
cannot
reply to topics in this forum